Pre-Orientation Programs

Pre-Orientation Programs at Georgetown University offer new first-year and transfer students a chance to connect with peers, faculty, and staff around a specialized topic before their first semester at Georgetown. Pre-Orientation participants are immersed in a smaller community even before New Student Orientation begins. Reflecting a variety of interests to explore, Pre-Orientation Programs provide students with opportunities for discovery and adventure. Whether you explore the outdoors, engage with social justice topics, enhance your leadership skills, or broaden your scholarly horizons, you will learn more about yourself and meet new friends.
Pre-Orientation Programs are currently scheduled to take place on August 13-18, 2023. Pre-Orientation Programs are available to new first-year students and new transfer students starting their first semester at Georgetown in August 2023. Pre-Orientation Programs are free of cost unless otherwise noted below.
More information about the format of Pre-Orientation Programs (in-person, hybrid, etc.) will be released later this summer as Georgetown continues to work through the health and safety protocol for the Fall semester. More information on move-in dates and details for Pre-Orientation participants will be released later this summer.

Pre-Orientation Programs will be keeping an eye on guidance around COVID-19, and will keep you updated on the status of programs accordingly. Please visit the Georgetown Coronavirus (COVID-19) Resource Page for up-to-date information on the university's response.
Application
The 2023 Pre-Orientation Programs application form is now open. Students can access the application by clicking the button below.  Applications will close on June 11, 2023, at 11:59pm Eastern Time. Applications submitted after this time will not be considered.
Hosted by the McDonough School of Business, BUILD is a Pre-Orientation program that offers intensive academic and leadership development opportunities for incoming first-year and transfer business students in the McDonough School of Business. BUILD's mission is to integrate students from all backgrounds into the undergraduate business community before classes formally begin and provide them with a foundation for success in their first year at Georgetown. Minority students and those who identify as first-generation college students are highly encouraged to apply.
Campaign Bootcamp will give students a behind-the-scenes look at political campaigning. Students will learn about the mechanics of political campaigns, from message development and polling to managing volunteers and getting out the vote. At the end of the program, students will put their knowledge to the test by simulating a competitive political campaign and helping their candidate win! This year, students will be looking at and simulating a real time 2023 campaign.
CURA is a pre-orientation program for first-year students who are interested in exploring the intersections of healthcare and social justice, as well as Jesuit values through service, immersion, dialogue and reflection. Through our experiences together and with community leaders across all 8 wards of DC, we aim to develop the future of equity-oriented healthcare professionals, whether they choose careers in medicine, administration, law, policy, media, etc. We will work and grow together in our understanding of care within healthcare and how our actions, as Georgetown students, influence our community. Please reach out to cura@georgetown.edu (new window) with any questions!
Offered through the Center for Social Justice, FOCI's goal is to highlight the vibrancy of the DC community through volunteer activism and meaningful engagement with partners as a way to explore social justice issues, frameworks of solidarity, and pathways for social change. The program includes reflecting on individual and collective experiences to consider how you want to lead, serve, and organize for justice on the Hilltop and beyond. Start your time at Georgetown building a community of #HoyasForOthers, and begin to learn, live, and love DC.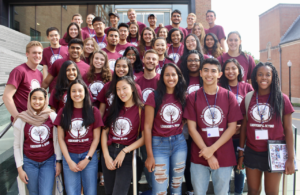 Offered by Georgetown Opportunities for Leadership Development (GOLD), L&B gives new Hoyas the opportunity to discover Georgetown through the lens of leadership and social change. This week-long program is guided by the Social Change Model of Leadership, which promotes leadership through service. During this experience, students will develop their leadership skills and create their own definition of leadership. Participants are assigned a student mentor in which to guide them through this process and throughout the entirety of their freshman year. Through mentorship, self-reflection, and peer action, participants will get to know themselves, each other, and the ways in which their unique style enhances leadership experiences and their ability to effect change on the Hilltop and beyond.
GOPOP is Outdoor Education's (OE) Pre-Orientation GOPOP offers an exciting way for new Georgetown students to bond with their incoming classmates. Traveling through the backcountry with a group of 6-10 fellow students and trained Georgetown student guides, participants will have the chance to practice their leadership skills, meet and overcome challenges, and reflect on their transition to college.
Given the travel associated with GOPOP, there is a fee associated with participating in a GOPOP trip. The Fall 2023 trip options for GOPOP are listed below:
–Virginia or West Virginia Backpacking – $400
–White Water Paddling 101 – $600
–D.C. Adventure – $500
YLEAD strives to help us understand who we are through intentional engagement. The central goal of YLEAD is to engage Georgetown students in exploring their identities and in reflective dialogues about inclusion and belonging, to encourage them to effect positive change on campus and in their communities.
All participants will be encouraged to bring their lived experiences into the program as a catalyst for reflection, growth, and skill building. YLEAD is a 5-day experience. This pre-orientation program is meant to prepare incoming students for their transition to Georgetown in order to attain goals related to this next stage. Students will engage in dialogue, use new skills and knowledge, grow community, explore their identities, have healthy relationships across differences, and authentically be who they choose to be.
With a focus on a common love of learning, this one-day pre-orientation program will give students a unique introduction to academic, co-curricular, and social life at Georgetown University as students engage with faculty, administrators, and student leaders in a variety of different settings. Sign-ups for Prelude will take place separately after applications for other Pre-Orientation Programs have closed.