Spring New Student Orientation (NSO)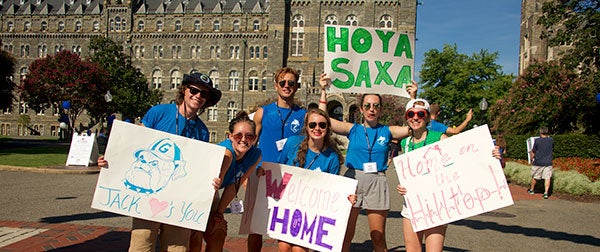 Congratulations to our newly admitted Georgetown students! We look forward to orienting you this Spring to life on the Hilltop. Spring 2020 New Student Orientation (NSO) will take place January 5-7, including move-in on January 5 and mandatory orientation programs on January 6-7. The first day of classes is Wednesday, January 8, 2020. Whether you are a first-year, transfer, or international student, NSO is an exciting experience where you prepare for the next few years on campus, meet current students, staff, and faculty, and establish connections with other new students.
Registration for Spring NSO will open on November 1. More details on the Spring 2020 Orientation program will be posted in November.
Pre-Arrival Newsletters
You have been receiving a series of pre-arrival newsletters outling tasks, to-do items, and information you need to know before arriving at Georgetown. Please make sure you are regularly and actively checking your Georgetown e-mail account to stay up-to-date on what you need to know. Copies of these email newsletters can be found in the links below:
Newsletter 1 – October 11, 2019 (Welcome to Georgetown!)
Newsletter 2 – October 23, 2019 (Registration for NSO)
Newsletter 3 – October 28, 2019 (Financial Preparedness)
Newsletter 4 – You will have received an email from your Academic Advisor.
Newsletter 5 – November 26, 2019 (Health & Wellness Action Items)
Newsletter 6 – November 27, 2019 (UIS & Technology)
Newsletter 7 – December 3, 2019 (Campus Safety & Security)
Newsletter 8 – December 13, 2019 (Peer Mentorship On Campus)
Newsletter 9 – December 16, 2019 (Getting Engaged On Campus)
Newsletter 10 – December 20, 2019 (Final Reminders)
Spring 2020 NSO Schedule
The Spring New Student Orientation and Parent & Family Orientation schedules can now be viewed on the Schedule of Events tab. Please email nso@georgetown.edu with any questions.