Georgetown Weeks of Welcome (GWOW)

Calendar of Signature Events Events
Check out the Calendar of Events below to see all the details for signature Georgetown Weeks of Welcome programs, hosted by the GWOW student coordinators! Join GWOW on Friday and Saturday nights for fun and engaging activities that will help you meet other new Hoyas and connect with returning students.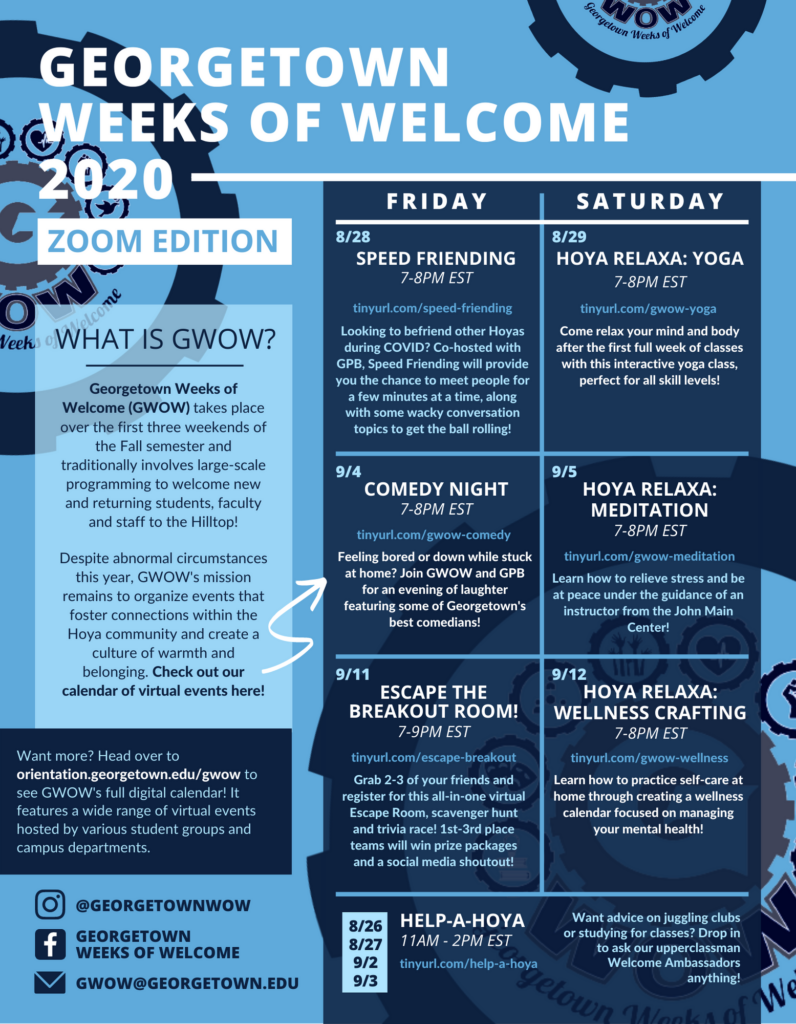 The GWOW digital calendar, which reflects programs available in the first six weeks of school, will be updated on an ongoing basis throughout August. You can click on events in the Google calendar below, and add them to your own Georgetown Google calendar!
What is GWOW?
Georgetown Weeks of Welcome (GWOW) takes place over the first six weeks of the Fall semester and involves large-scale programming to welcome new students, returning students, faculty, and staff back to Georgetown.
GWOW hopes to provide a valuable opportunity to embrace the new school year by bringing the community. It is a time to encourage student involvement, boost school spirit, and create lifelong memories! This year, GWOW will host events virtually to connect new Hoyas to other Georgetown students and build community in the first few weeks of school.
Mission of GWOW
Georgetown Weeks of Welcome aims to immerse new and returning students in the unique and multifaceted culture of Georgetown during the first six weeks of the academic year. Students will interact with Georgetown's diverse student body and faculty by participating in co-curricular programs, events, and activities that support their academic and personal development.