Are You Ready?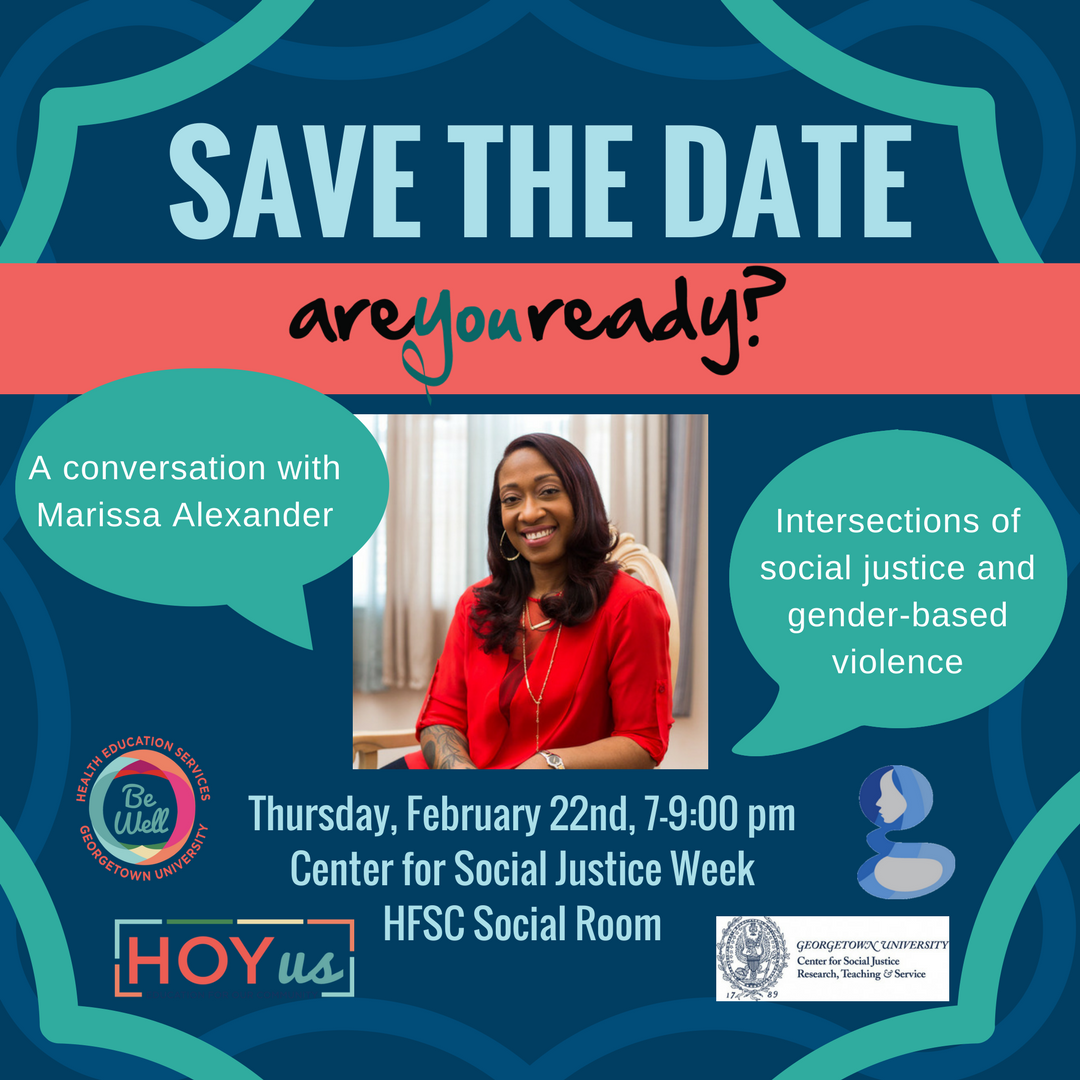 Health Education Services, The Women's Center, and the Center for Social Justice (CSJ) are excited to announce that Are You Ready will be held the Thursday evening of Georgetown's CSJ's Social Justice Week.  Are You Ready is a dynamic student and community program that addresses interpersonal violence through a social justice lens.  The program features a keynote speaker and will be followed by small group discussions led by student facilitators. 
Detailed information about our keynote speaker:
This year our keynote speaker will be Marissa Alexander of the Marissa Alexander Justice Project. Ms. Alexander is an advocate for survivors of domestic violence and social injustice. She comes from a military family and holds a BS in Information Technology and a MBA. In 2016, she founded the Marissa Alexander Justice Project (MAJP), which seeks to provide services that promote unity through the collaboration of social justice, criminal reform, and anti-domestic violence movements. MAJP specifically provides support to domestic violence survivors as they navigate the intersections of familial, community, and criminal justice systems. 
Ms. Alexander was arrested and charged with aggravated assault in August of 2010 for firing a single warning shot after being attacked by her then estranged husband. In August of 2012, Marissa was sentenced to twenty years in prison under Florida's harsh minimum mandatory sentencing policies. In 2013 an appellate court overturned her case as a result of faulty jury instructions. After a long journey fighting for her freedom Marissa accepted her original plea agreement of three years and completed her sentence of 65 days in the Duval County Jail. Upon release she remained on an ankle monitor under strict probation supervision. Finally, in January of 2017, she was released. Her story gained national attention and shed light on harsh minimum mandatory sentencing policies as well as the Stand Your Ground Law. 
A special opportunity for faculty & staff!
In addition to the Are You Ready program, we will also host a separate event to allow just staff and faculty an opportunity to hear from and discuss with Marissa Alexander. This event is to take place in the afternoon the same day as Are You Ready. Be on the lookout for additional information in the following weeks!
'Are You Ready?' is co-coordinated by professional staff members in Health Education, the Women's Center, Counseling and Psychiatric Service, LGBTQ Resource Center, and Residence Life. 'Are You Ready?' will be held on February 22, 2018 from 7-9pm. If you are interested in learning more about the program, please email Jen Luettel Schweer or Katie Heather.