Signature Events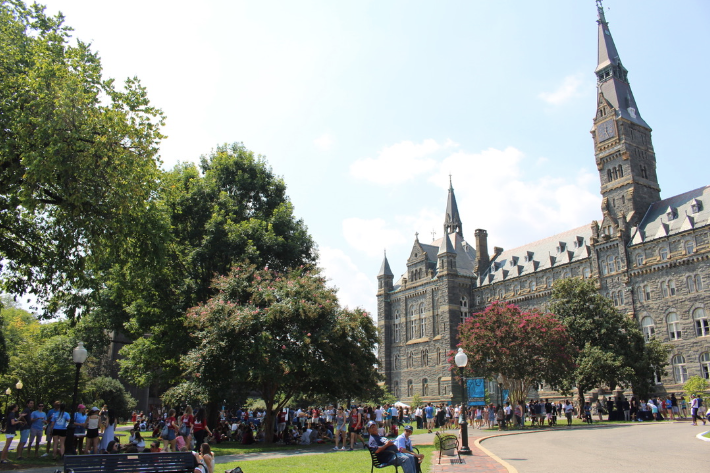 The following events are just a few of the many activities that make up Georgetown Weeks of Welcome. Our 2019 calendar will be available in June 2019.
Welcome Back Jack BBQ (WBJ)
Our largest and most celebrated event, WBJ is a fun-filled afternoon of activities, student group performances, free food, giveaways, and thousands of people – not to mention the infamously elusive WBJ t-shirts. This event is sponsored by various campus offices.
Help-a-Hoya
During the first few days of classes, current students, and staff and faculty will be tabling across campus to provide directions, refreshments, and information.
Bed Bath & Beyond Carnival
Come join GWOW, Interhall Council, and Bed Bath & Beyond for a night of discounted shopping to stock up on the essentials you need for your dorm room! All Georgetown students will receive a 10% discount on all items purchased, and transportation to and from the store will be provided at no cost to you. BBB experts will be available to guide you through the shopping process as you make your dorm room a personalized, one-in-a million space.
Hoya Tees
Vintage Georgetown Tees are on sale for $2, or if you bring us a shirt from a different university, you can swap it out for a Georgetown shirt! And brand new this year, stop by our tie-dye station and create your own tie-dye masterpiece! All proceeds are donated to the Georgetown Scholarship Program. All shirts that were received via the swap option will be donated to a local shelter.
Taste of the Hilltop
Taste of the Hilltop is a massive culinary experience that brings DC cuisine to Georgetown's front gates. Taste of the Hilltop brings together both campus/student groups and neighborhood vendors and storefronts to interact with students and learn more about one another. Come enjoy a scrumptious meal while you learn more about what Georgetown clubs and organizations have to offer!
The Big Hunt
All first-year and transfer students are invited to partcipate in Georgetown's annual DC-wide scavenger hunt! Get to know your new home with your new friends, win incredible prizes, and feast on some of the best food DC has to offer after a long day of time traveling!
& Many More!